Rozen
Characteristics
Species
Human
Gender
Male
Weapon
Sword
Status
Occupation
Knight of the Order of the Seven Lances
Family
None
Status
Alive
Media
Manga Debut
Chapter 1
Rozen is an officer of the Order of the Seven Lances, the personal unit of Glenn. He and his retinues help Koinzell, until learning of Koinzell's true Identity
AppearanceEdit
Rozen is a tall, broad shouldered soldier with shoulder-length hair.
PersonalityEdit
Hero of the FrontierEdit
Rozen first appears on second to last page of Chapter One. He has come to the boarder frontier in hopes of finding the "New Hero" that will save the empire
Heaven's LanceEdit
AbilitiesEdit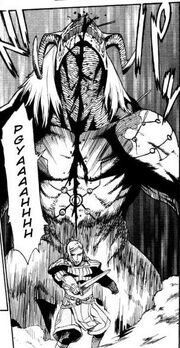 Ad blocker interference detected!
Wikia is a free-to-use site that makes money from advertising. We have a modified experience for viewers using ad blockers

Wikia is not accessible if you've made further modifications. Remove the custom ad blocker rule(s) and the page will load as expected.